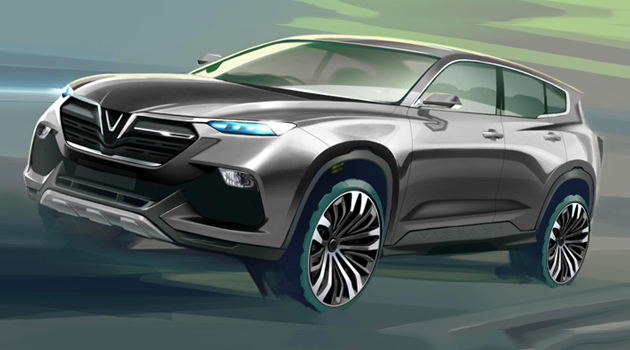 After 14 days of voting, attracting two million visitors, nearly 62,000 participants and more than 10,000 comments, VinFast's public contest tothe most favourite cars zeroed in on the two most wanted Sedan and SUV models, along with the winners of the prizes, valued at total VNĐ1.1 billion (US$48,298).

According to the vote result, Sedan 02 and SUV 02 models of Ital Design received the maximum votes from car lovers. Specifically, the Sedan 02 model got 22,396 votes and the SUV 02 car had 13,833 votes, accounting for 36.2 per cent and 22.4 per cent of the total of nearly 62,000 votes, respectively.

These two cars have a strong, luxurious and dynamic design. In particular, with the introduction of the V-shaped stylised icon -- the first letter in Việt Nam's name on the logo and the link from headlamps to the top of the car -- these two models have aroused national pride and scored the highest points from Vietnamese consumers.

Besides the two most voted designs, the remaining 18 models also received public praise for their fashionable, liberal and modern styles, especially Pininfarina's Sedan 02 or Torino Design's SUV 02 models.

Phạm Minh Lý, from Hà Nội, defeated nearly 62,000 participants to win one voucher worth VNĐ500 million. This customer had the most accurate selection in the shortest time and predicted correctly the ratings for the two models.

In addition, VinFast also determined the winners of the other valuable awards, such as two vouchers worth VNĐ50 million per voucher; 30 vouchers worth VNĐ10 million per voucher and 100 VINID gift cards worth VNĐ2 million per card. The vouchers and VinID cards can be used to purchase Vingroup's products and services, including real estate, vacation, retail, healthcare, education and agriculture.

The award ceremony will be held on October 22, 2017, at the Almaz International Cuisine and Convention Centre, Hà Nội.
Vingroup deputy chairman Nguyễn Việt Quang said VinFast's motto is Style - Safety - Innovation - Pioneer. Therefore, the results of the vote will be one of the important reference points for VinFast to use in deciding production samples, ensuring Vinfast cars are beautiful, modern and catch up with the world standards, along with being suitable with the tastes and demands of the Vietnamese market.

The VinFast car vote contest was conducted from October 2 to 16, with 20 vehicles designed specifically for VinFast from four world renowned car design studios -- Pininfarina, Zagato, Torino and Ital Design.

Along with the poll, VinFast is also urgently completing work items in accordance with the schedule, such as building the factory in Hải Phòng's Đình Vũ-Cát Hải Economic Zone, signing with big global partners and promoting co-operation with domestic and foreign suppliers.

In the presence of Việt Nam Trade Promotion Agency's officers, the Ministry of Industry and Trade and representatives of customers, the contest's organising board determined the winners transparently and declared them on its website www.binhchonmauxe.vinfast.vn. — VNS