The first Thanh Hóa's Vincom+, which was officially opened on December 30, 2017, is located in the central land of Hải Yến Commune, Tĩnh Gia District, adjacent to National Highway 1A and is directly connected with modern transport routes. This is considered the most vibrant and densely populated area in the region.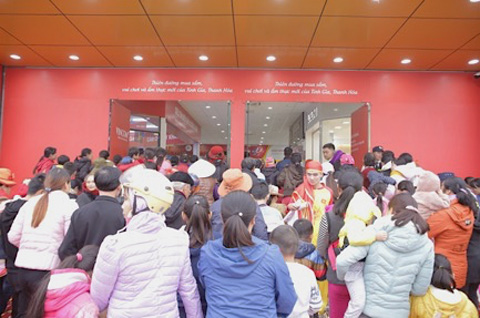 Customers rush to Vincom+ Tĩnh Gia on the opening day
Vincom+ Tĩnh Gia has an area of more than 4,000sq.m and is conveniently located on the same floor with department stores, shopping malls, food court and entertainment areas for children. In order to create favourable conditions for local shoppers, Vincom offers a parking area of 8,000sq.m, which is free of charge. With professionally-trained security staff trained with modern camera system, shoppers are completely assured of a safe experience when coming to Vincom shopping and entertainment.


The proper allocation of tenants and site planning, along with the traffic corridor, also maximises convenience for the shopping customers. One of the most attractive areas in Vincom+ Tĩnh Gia is the food court with two famous brands – Lotteria and Chingu. At this court, people can enjoy a variety of dishes from the traditional Vietnamese menu, as well as the dishes of Republic of Korea and Thailand.For young people coming to Vincom+ Tĩnh Gia, the Games Centre will be a huge draw. This is the largest indoor recreation area in Tĩnh Gia with many modern and new machines, suitable for all ages. This will be an ideal destination for families and young people.


A place which cannot be missed, where people can buy all items from consumer products, furniture, pillow blankets to food, vegetables and fresh meat that are safe and hygienic. Consumer supermarket VinMart, covering an area of up to 1,500sq.m, is handling the distribution of consumer goods with competitive prices and quality assurance. Shoppers will have the chance to participate in a lucky draw, with prizes worth up to VNĐ3 million (US$132), on purchase of goods worth VNĐ300,000 or above until January 15, 2018.


Customers will also have the opportunity to choose electronics goods of the most prestigious companies in the world with professional warranty and customer care in the electronics supermarket VinPro. Especially, during the "Golden hours with shock price" on December 30 and from January 1 to 6, 2018, people have the opportunity to buy special products with shock prices, such as anti-sticky pans priced at VNĐ159,000 having a discount of only VNĐ9,000 each, super tepic kettle of 1.8L with discounts from VNĐ190,000 to only VNĐ49,000. The owners of VinID cards having a receipt of minimum VNĐ2 million during these days will also be offered a modern 1.8L rice cooker for free. VinPro has also launched the instalment incentive programme at only zero per cent interest rate.


Quốc Huy, a customer in Tĩnh Gia, said: "Tĩnh Gia has never had such a modern and huge centre like Vincom. Today, Vincom has opened its new shopping centre right near my house, so my whole family has come here early. The goods for sale in Vincom+ are not only diverse but also guarantee quality and origin. Besides this, Vincom is nice and convenient, therefore, my family will definitely come here often."Vincom+ Tĩnh Gia is the 46th centre in the system to be put into operation. Built on the Vincom+ model with full facilities, people in Tĩnh Gia District– hanh Hóa Province, in particular, and neighbouring areas have new shopping points with quality assurance to meet the increasing shopping demand of customers on the occasion of the new year 2018 and upcoming traditional Lunar New Year.
Việt Nam News.